Low Voltage Lighting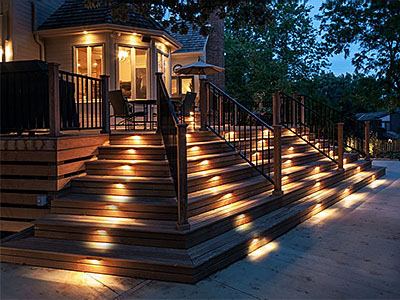 Landscapes include a range of features and outdoor lighting is a very important. It's crucial to have the right kind of lights to enhance the safety, security, functionality and aesthetics of the space. Since the outdoor lighting on your property is a very important factor of landscape design and planning, you need to hire experts like the ones at Nightscapes Lighting and Landscape Services for the job.

The company caters to customers in and around Bluffton, Levy, and Limehouse. They also provide exterior lighting services to customers across Okatie, Brighton Beach, Hardeeville, and Switzerland, and handle projects for clients in Hilton Head Island, Daufuskie Island, Ridgeland, and the surrounding areas.

Companies such as these which provide specialized services know that their customers are looking or unique solutions. Many property owners are also environment-conscious and look for ways and means of saving some money on their landscape lighting bills. This is where low voltage lighting comes in.


Types of Low Voltage Light Fixtures
When skilled contractors design outdoor lighting plans for their customers, they pay extra attention to offering the right types of low voltage outdoor lighting fixtures such as:


Paver lights
Boundary lights
Lamp posts
Garden step lighting
Accent lighting
Security lighting
Recessed lights
Retaining wall lighting
Underwater lights for waterfalls, fountains pools, ponds and streams
Floodlighting
Other

All these installations help provide the right kind of illumination and create a beautiful effect in the outdoor areas your property; in addition, they enhance the security and safety of your home. When you have properly lit spaces you are able to make better use of the available space which provides you a better return on investment. But if you want to reduce the amount you pay as utility bills, you should consider getting low voltage lighting installations. In addition to installing LED lights, you can also get motion sensor lighting and low wattage lights and transformers fitted.


The Benefits of Low Voltage Garden Lights
There are a several benefits to getting low voltage landscape lights such as:


LED bulbs of a low wattage are highly energy-efficient, and you don't have to compromise on the brightness aspect; they are 80% more energy-efficient compared to halogen or incandescent lights
Since LED bulbs consume less energy, that helps you save on your energy bills
Low voltage landscape lights throw a very cool light. There is very low heat distribution which also helps maintain a more comfortable temperature in your immediate surroundings.
LED bulbs have a lifespan of up to 15 years and they are a cost-effective and low maintenance landscape lighting option.
Since these light fittings have transformers, there isn't any risk of electrocution; this means if required you are also able to install LED bulbs without having to switch-off the power supply.

When you want low voltage outdoor lighting that will enhance the safety, aesthetics and functionality of your landscaping, you should hire a company like Nightscapes Lighting and Landscape Services. Their expertise and specialization in the field ensures you get good quality solutions at very reasonable low voltage outdoor lighting cost.

"MORE ARTICLES"

Outdoor Lighting
Landscape Lighting
Outdoor Lighting Design
Outdoor Lighting Installation
Outdoor Lighting Repairs

To request a free consultation please call us at 843-258-9100 or fill out
contact form
and we respond to you at our earliest convenience.
We Provide Services to the Following Cities, Towns and Surrounding Regions of SC: