Outdoor Lighting Repairs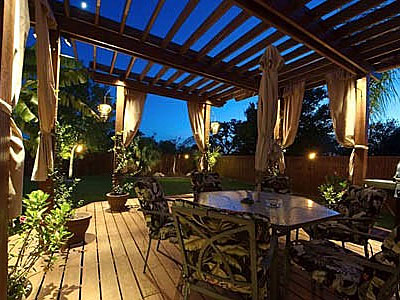 The outdoor lighting installations on your property are a very important aspect of your landscape design. These features provide illumination to the outdoor areas which helps make them more safe and functional. Well-lit outdoor spaces also add to the curb appeal and value of your home. As you can see, the outdoor lighting on your property is a vital component of landscape design and planning and you need to hire experts like the ones at Nightscapes Lighting and Landscape Services for the job.

The company caters to customers in and around Bluffton, Levy, and Limehouse; they also provide exterior lighting services to customers across Okatie, Brighton Beach, Hardeeville, and Switzerland, and handle projects for clients in Hilton Head Island, Daufuskie Island, Ridgeland, and the surrounding areas.

While good quality landscape lighting will provide years of service, the features are exposed to the elements and they suffer a certain amount of wear and tear over time. This is why it is crucial to get the fixtures maintained with regularity; this allows the technicians spot problems early and they can be fixed before they turn into more serious problems.


Outdoor Lighting Fixture Repair
Regardless of whether the company installed the lighting fixtures or not, most outdoor lighting contractors provide maintenance and repair solutions as well. This helps ensure your outdoor lighting system is operating at its peak performance.

There are times when your outdoor lights may not have been installed well or poor-quality fixtures and components may have been used in the project by the company that handled the installation job at the outset. This can result in a variety of problems in the systems, including:


Light fittings don't function at all
Moisture has gotten into the light fittings
Lights have become damaged by landscape elements
Outdoor lights readjustment/repositioning is required
Problems with light sensors
Dysfunctional photo cells
You experience shock when you touch a lighting fixture
Excessive or less voltage can also cause your light bulbs to blow out
Burn out of electrical sockets
Old wiring cracking or melting

Skilled and experienced outdoor lighting experts will inspect the installations and fix the problem using good quality components.


Outdoor Lighting Fixture Maintenance
As mentioned earlier, the one way to avoid any major problems in the outdoor lighting installation is to opt for regular maintenance. As part of these plans, the experts will:


Replace non-working bulbs
Replace traditional bulbs with LED bulbs to increase energy-efficiency
Refocusing the light projections
Remove debris from lighting fixtures
Repair cut wires
Replace damaged wires
Replace broken or damaged light stakes
Tighten loose components
Check underwater light fixtures in water features
Repair broken lights
Check voltage transformers
Reset timers
Rebury exposed wiring

The technicians will test all the installations for proper voltage and this will include inspections of transformers, wiring, light fixtures and bulbs; these checks help ensure that all the components are working as they should and you get the most out of your outdoor light fixtures.

When you want outdoor lighting that will enhance the safety, aesthetics and functionality of your landscaping, you should hire a company like Nightscapes Lighting and Landscape Services for repairs and maintenance. Their expertise and specialization in the field ensures you get good quality solutions at very reasonable exterior light repair cost.

"MORE ARTICLES"

Outdoor Lighting
Landscape Lighting
Low Voltage Lighting
Outdoor Lighting Design
Outdoor Lighting Installation

To request a free consultation please call us at 843-258-9100 or fill out
contact form
and we respond to you at our earliest convenience.
We Provide Services to the Following Cities, Towns and Surrounding Regions of SC: