Outdoor Lighting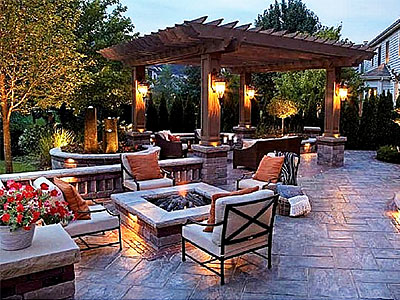 When you are getting your landscaped areas designed and installed, you take special care to make sure that the right features and materials are used in the project and that the actual installation is handled by experts. While most property owners prioritize getting the best quality softscaping and hardscaping features, the one aspect that gets shunted into the background in a large percentage of landscape projects is outdoor lighting.

The outdoor lighting on your property is a very important component of landscape design and planning, you need to hire experts like the ones at Nightscapes Lighting and Landscape Services for the job. The company caters to customers in and around Bluffton, Levy, and Limehouse; they also provide exterior lighting services to customers across Okatie, Brighton Beach, Hardeeville, and Switzerland, and handle projects for clients in Hilton Head Island, Daufuskie Island, Ridgeland, and the surrounding areas.


What Makes Garden Lighting So Important?
While well-designed and properly-installed landscapes will look great in the daytime, you can't enjoy the beauty of these spaces after dark unless they are well-illuminated. This is exactly where the expertise of professional lighting contractors comes into the picture. They will have handled a large number of similar lighting projects and would be able to provide custom garden lighting solutions.

Exterior lighting should typically be a component of a landscaping project; but if you feel that the existing garden lighting fixtures on your property don't provide the kind of illumination you need, you can also opt for outdoor lighting upgrades. The experts will survey the available space, assess the existing lighting installations, pinpoint what is wrong and will provide suitable solutions.


Benefits of Outdoor Lighting
There are a numerous benefits to getting ensuring you have well-planned outdoor lighting:


You will be able to use the outdoor areas of your property more optimally.
Well-illuminated landscapes act as a deterrent for unsavory elements such as vandals, trespassers, and thieves.
You will be more comfortable with allowing your children and pets play in the backyard after dark.
It enhances the curb appeal of your property.
Increases your property's value.
Different Types of Outdoor Lighting
Yard lighting isn't just about installing few floodlights or positioning some halogen lights in different areas of the yard. It's about identifying which spaces need lighting and what types of features would be suitable for those spots. Outdoor lighting plans have to be drawn with attention to detail and a lot of creativity and thought goes into the task. The different types of landscape lighting that could be installed include:


Exterior building lights
Outdoor kitchen lights
Garden lamp posts
Recessed lighting in retaining walls
Pathway and driveway lamps
Light fixtures for columns and decorative pillars and boundary walls
Focus lights for decorative masonry and garden elements
Paver lights
Lighting for garden steps
Underwater and ambient light fixtures for water features
Other
Energy-Efficient Outdoor Lighting
While it's vital to have the right kind of lighting in the garden and yard, these fixtures can drastically increase your energy bills. Using energy-efficient LED lights and fixtures addresses this problem in the best possible way. These offer 80% more energy-efficiency than conventional bulbs and can provide up to 50,000 hours of illumination.

When you want outdoor lighting that will enhance the safety, aesthetics and functionality of your landscaping, you should hire a company like Nightscapes Lighting and Landscape Services. The expertise and specialization of companies like these ensures you get good quality solutions at very reasonable exterior lighting cost.

"MORE ARTICLES"

Landscape Lighting
Low Voltage Lighting
Outdoor Lighting Design
Outdoor Lighting Installation
Outdoor Lighting Repairs

To request a free consultation please call us at 843-258-9100 or fill out
contact form
and we respond to you at our earliest convenience.
We Provide Services to the Following Cities, Towns and Surrounding Regions of SC: